Rev. Fr. Ivan Madtha
Spreading Gospel values through magic by Fr. Ivan Madtha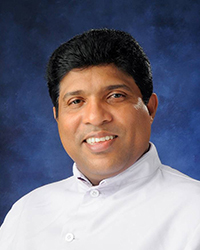 When Christ sent his followers with the mandate of Evangelization, he did not send them empty-handed. Through the parable of the Gold coins given to the three servants, Christ reveals that each one of us are gifted with some kind of golden coins (Luke 19:11-27). Luckily Fr. Ivan Madtha received a magic coin from his Master. Soon he started performing magic with it.

Abracadabra ! Welcome to Prof. Fr. Ivan Madtha's World of Magic. He makes you to float in the air defying the laws of gravity; lock him with strongest chains and he is out in no time. He casts his spell and produces things, animals and persons from an empty box; and he vanishes the things that play on his palm. He makes the wand to dance in the air and changes the colour of his coat.


This is how you introduce Fr. Ivan Madtha, a magician priest of Mangalore Diocese. He was born in Puttur, South Canara district of Karnataka state on 13th October 1963. His father Late Fredrick Madtha was a naval officer and his mother Mrs. Alice Madtha is a retired teacher. From boyhood days he showed keen interest in Nature, Science, Philately, Ornithology, Entomology, Drawing, Craft, Dancing, Acting and above all Magic. He joined St. Joseph's seminary, Mangalore in 1981 and was ordained a priest in 1991. All these years along with the philosophical and theological studies, he learnt chemistry, physics, optics and audience psychology synchronizing them with the sleight of hand, close up magic, conjuring, illusions and mentalist magic. He says "Science + Art=Magic.

Fr. Ivan Madtha performed his First public magic show on 11th of January 1996 in the Town hall of Mangalore. As of now, he has performed more than 2,000 shows. With his mission, he has travelled in many streets, villages, schools and parishes of various dioceses of India.

Fr. Ivan Madtha is more of an Evangelizer than a magician. So, using magic just for the sake of entertainment is not his objective. He uses the medium of magic because it is unique, attractive, rare and full of novelty. That's why he takes the trouble to perform the Bible magic and Value based magic in vernacular or local languages. He has performed magic in English, Hindi, Kannada, Konkani and Malayalam.

Fr. Ivan Madtha became the member of Indian Magic convention in 1997 and has been awarded with the title "Professor in Magic" in 1998. Since then, with the skill of his hands and illusions, he has stunned the audience. He plunged the people into mystery by riding a bike blind-folded for 15 kilometers in the busy streets of Mangalore city and by escaping within 3 seconds from a locked wooden box.

Fr. Ivan Madtha presents moral values and teachings with the help of Magic. Though many magicians have used magic for entertainment and a few have used them to educate the people, Fr. Ivan Madtha is a first person to synchronize the main essence of the Bible with the media of Magic. His sister Doris assists him in the magic endeavor.

Fr. Ivan Madtha performs 2 types of magic shows: (1) Bible based magic show for the Christian community and (2) Value based magic show for the mixed community.

Fr. Ivan Madtha says, "Now I have 85% permanent disability and to a certain extent some walking impediment. In spite of this, I continue my Evangelization mission with greater zeal than before because now my life has a witness value. I strongly believe that disability does not lie in our body, but in our mind. If I have faith in God and a strong will power, the remaining 3 fingers of my body are sufficient to serve God and humanity. I will not sit inside my room mourning over the left hand that I lost; but I will rejoice and thank God for retaining the 3 fingers of my right hand to serve others. Sufferings are not great; God is great. Suffering is the primary Christian charisma. I lost only my hand, but I did not lose my faith in God, I did not lose my will power, I did not lose my zeal to serve God and humanity, I did not lose my talents neither have I lost the smile on my face. I am gracefully broken to participate in the suffering of Jesus, I will be gracefully made whole to participate in his resurrection too. Earthly sufferings have no power to stop the heavenly mission".

Apart from the award Professor in magic, the strong will power and dedication of Fr. Ivan Madtha has brought him 4 other awards recently.

(1) Daijiworld media has conferred on him the 'Swabhiman' award 2011

(2) Catholic Priests' Conference of India (CPCI) has given him the 'Award of Excellence' for his work in the field of Evangelization in 2011

(3) SIGNIS World Catholic Media Organization has honoured him with the Life time Achievement award in 2016

(4) International Lion's club has bestowed on him with 'Sadhna' award in 1918.
Along with the mission of Evangelization, Fr Ivan Madtha is also preaching retreats in the parishes of various dioceses; promoting Marian devotion and conducting religious exhibitions on Cross and Mother Mary. He has a unique collection of more than 500 Crosses from various nations and denominations.